Welcome back to Ready Read Tuesday! If you are new to my weekly book challenge, see
this post
for the background. In order to save time, let's just consider this as good of a reason as any to spend some time reading with the burgeoning young geniuses in your life. To help navigate, I've added an index page for this and all future Ready Read Tuesday posts
here.
So what are you waiting for? Grab one of these great books and let me know what you've been reading with your kids!
Now for this week's book challenge – This week's theme is "The Short Stack." Between our busy works schedules and the kids' school and sports schedules, sometimes the idea of sitting down to an entire book is just daunting. That's why this week I'm focusing on short story collections that make it easy to read to or with your child a little at a time. There is a little something for everyone in these selections and, because nothing compares to a child's laughter, they can be counted on to show you the funny. Happy Reading!
1. The Sneetches & Other Stories
- Dr. Seuss
How It Inspires? Who among us can't think of treasured a Dr. Seuss story right off the top of our heads? And with Hollywood giving kids a fresh appreciation for these timeless classics, it's a great time to reintroduce all of us to some of our old favorites. Seuss was a master of weaving life lessons and tales of morality into incredibly entertaining stories, helping to build a foundation of open hearts and open minds for children. "Too Many Daves" and "What Was I Scared Of?" are two of my favorites in this collection.
2. Ribticklers!: Funny Stories
- Chosen by Michael Rosen
How It Inspires? Some of my favorite childhood memories with my family, even those where I'm a bit hazy on the details, involve all of us in fits of laughter together. I may not remember what was so funny, but I remember the feeling – Complete and Utter Happiness. This book is intended for the middle school aged but, with stories by humorists such as James Thurber, the grown-ups are bound to get a kick out of these stories as well.



3. Guys Read: Funny Business

–

Edited by Jon Scieszka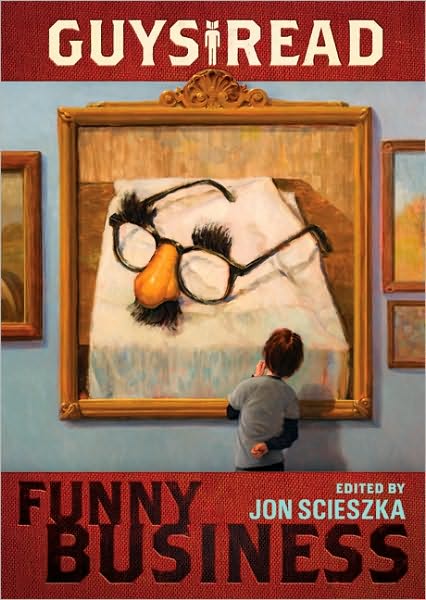 Where To Get It? Amazon/Kindle, B&N
How It Inspires? For starters, everything I mentioned above about laughter creating such wonderful memories applies to this collection as well. But going a step further, this collection is part of the Guys Read series aimed at piquing the interest of young boys. Studies show that boys are harder to interest in reading, and Scieszka has done a wonderful job of putting together stories that contain all of the ick, gore, and comedic villains a boy could want in a book. It might be written for 9-11 year olds, but if you have boys from 9-91, this is your one-stop shop to get them reading.